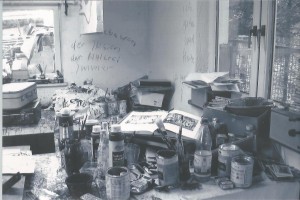 Peter Robert Keil, born in Zullichau, Pomerania (now Poland) on August 6, 1942
1954-1956 Pupil of the Berlin painter Otto Nagel
1956 Apprenticeship as a locksmith (Art/Metal Worker)
1959-1961 Studies at Hochschule der Künste Berlin (today: The Berlin University of the Arts)
Since 1963 residencies in London, Paris and Mallorca.
In the 197os: visiting student at the HDK Berlin.
Since the 1990s he runs a studio in Florida and lives temporarily in New York.
Today P.R. Keil lives and works in Zimmerau (Bavaria) and Florida (USA).
Major Collections
Wilhelm Kampik, Keil-Collection, Heidelberg
Gerhard Fehringer, Pfaffenhofen, Oberbayern
Dr. Nitsche – Bad Königshofen
Dr. Boxler – Lichtenfels
Dr. Dietrich – München
Dr. Kremer – München
Claudia Lang – München
Harold Reitz – Amsterdam, NL
Gallery Hartl – Wien, Österreich
Rosenthal – Meckenhofen, Österreich
Gallery Vallerie, Intercontinental Hotel – Warschau, Polen
Russian Museum – St. Petersburg, Russland
Moscow Museum of Modern Art – Moskau, Russland
Kunsthaus Zürich – Zürich, Schweiz
Berlinische Gallery – Bern, Schweiz
Richard Kessler, The Kessler Collection – Orlando, FL, USA
Eclectic Art & Objects Gallery – Pittsburgh, PA, USA
Gianfranco Ferré, Fashion Design – NY, USA
Kent Anderson (H&M) – NY, USA
West Palm Beach Museum – West Palm Beach, FL, USA
Exhibitions
1962 First single exhibition at Art Gallery, London

1964 Rotebro, Sweden

1965 Grosse Berliner Kunstausstellung, Berlin

1966 Grosse Berliner Kunstausstellung, Berlin

1980 Galerie Dr. Friedmann, Israel

1985 Galerie Wewerka, Berlin

1993 Carousel Gallery, Dania, Florida, USA

1998 Aventura Art Gallery, Aventura, Florida, USA

1999 Galerie Höckner, Salzburg, Austria; Galerie Hartl, Wien, Austria

2000 various exhibitions in Paris, Amsterdam, London

2001-05 Intercontinental Hotel, Berlin

2002 Internationale Kunstmesse, Frankfurt

2003 60 Jahre Peter Robert Keil, Galerie Kunstsinn, Nürnberg

2005 Galerie Boxsler, Lichtenfels

2006 Public Library, Fort Lauderdale, Florida, USA; Las Olas Art Center, Fort Lauderdale, Florida, USA

2007 Villa Meixner, Sammlung des KulturForum Europa, Brühl/Baden; Kessler Corporation, Orlando, Florida, Savannah, Georgia, USA

2008 The Hurn Museum, Savannah, USA

2010 Keil-Collection Heidelberg; Edna Hibel Fine Art Gallery, West Palm Beach, Florida

2011 Keil-Collection Heidelberg
2012 Orangerie, Castle Schwetzingen; residency at Staatliche Majolika Manufaktur, Karlsruhe